Local Elections 2018: No majority at Carlisle council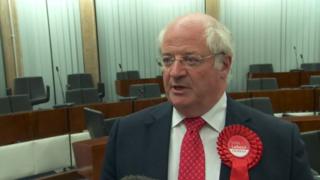 Carlisle City Council remains a hung council after none of the parties gained enough seats for a majority.
Labour needed just one gain for a majority, but lost a seat to the Conservatives.
The Yewdale ward was the only one of 17 contested seats to change hands.
This brings the Tory tally to 22, while Labour - which has been running the council - remains the largest party with 25 seats out of 52.
There was no change to the number of Lib Dem seats, which stands at one, and there are four independents.
Labour Leader Colin Glover said: "We are still the largest party and we will need to have some discussions in the coming days, but as of this moment I'm still leader of Carlisle City Council."
John Mallinson, Conservative group leader, said people were giving his party credit for its record in government.
He said: "I think the government is proving that they're getting their heads down and working towards solutions for all sorts of problems that are affecting people in their daily lives."
Voting has also taken place in South Lakeland District Council, where all 51 seats were involved following a reorganisation by the Local Government Boundary Commission.
The Liberal Democrats held the authority with 28 seats, but were down three.
The Conservatives gained three, giving a total of 19, and Labour won three seats - an increase of one.
There is no longer an Independent candidate on the council.