Teenage mother jailed over 'sadistic' knife attack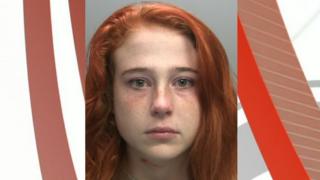 A young mum who stabbed her friend while the pair were in bed has been jailed for 11-and-a-half years.
Zoe Adams knifed Kieran Bewick five times with a 10-inch blade during a planned attack, having persuaded him to put a pillow over his face.
She had brought the weapon from the kitchen despite him having refused her request to tie him to the bed.
Adams, 19, of Brindlefield, Wigton, admitted wounding with intent to cause grievous bodily harm.
Mr Bewick, then aged 17 and now 18, told police he felt his lung "pop and squirt" while bleeding from chest wounds following the attack on the night of 29 July.
He suffered a collapsed lung, injuries to his upper arm, leg and hand, and was treated in hospital for "potentially life-threatening" injuries after fleeing the property and seeking help from a neighbour.
Carlisle Crown Court heard Adams had been drinking heavily and smoking cannabis.
'Cruel and sadistic'
The mother-of-one had earlier worn vivid facial make-up to frighten Mr Bewick, with whom police said she had an "on-off relationship", after learning he was scared of clowns.
He told officers she had a "fascination" for "gruesome murder videos".
A message she sent him the previous month described a male being "strapped up and used as a human sacrifice".
Adams denied an interest in sexual violence and was said to be sorry.
In a statement, Mr Bewick said: "I am going to be scarred for the rest of my life, both physically and mentally."
Jailing Adams and imposing an extended four-year licence period, Judge James Adkins described it as a "cruel and sadistic" attack, adding: "You formed an intent to cause your friend serious harm during the course of sexual activity with him."