'Wezzy Gezzy' local paper marks 200th anniversary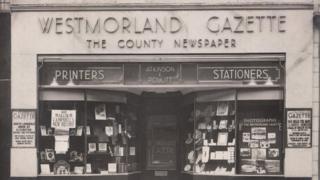 A local newspaper whose earliest supporters included William Wordsworth is celebrating its 200th anniversary.
The Westmorland Gazette was launched in 1818, and continues to sell about 15,000 copies a week.
Its history is now the subject of an exhibition at the Museum of Lakeland Life and Industry in Kendal.
"From Wordsworth to the Web" includes a first edition, old printing plates and a wall of humorous and light-hearted stories it has covered.
Running until December, it aims to put the publication - known as the "Wezzy Gezzy"- into context within the history of printing in Britain.
Also on show are letters to William Wordsworth from Lord Lowther - a key figure in setting up the newspaper.
They date from the year it was first published, and in one Lord Lowther complains to the poet about the "coarse language" in the paper.
One section of the exhibition highlights some of the best pictures taken by Gazette photographers over the years.
Rachel Roberts, curator of Museum of Lakeland Life & Industry, said: "The Westmorland Gazette is as much a way of life in south Cumbria as the fells and the lakes.
"It has been a staple in the homes of residents for two centuries delivering the sensational, serious and sometimes silly stories.
"In an era of digital news, this exhibition celebrates printed prose and also how the Gazette has adapted for the world wide web."