London Marathon: MasterChef semi-finalist Matt Campbell dies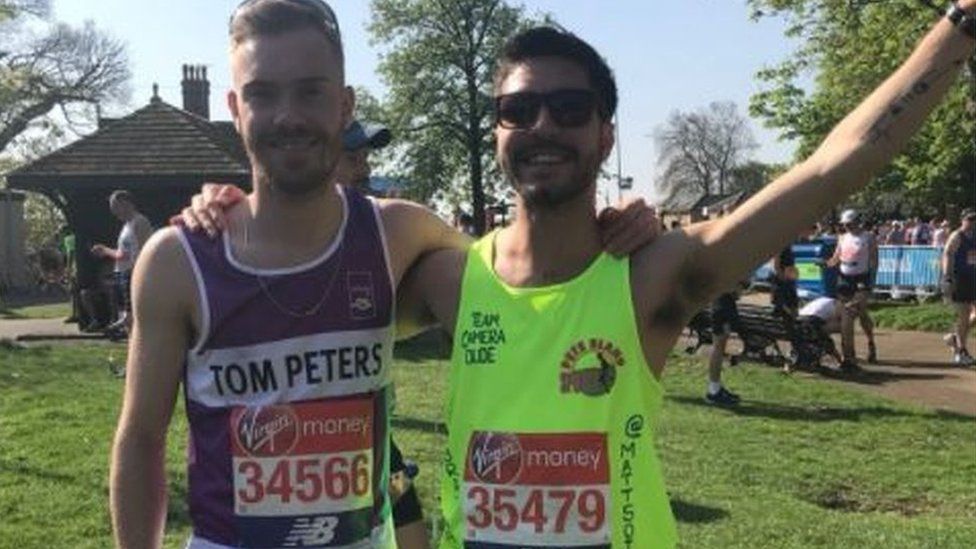 A MasterChef semi-finalist has died after collapsing during the London Marathon, it has been confirmed.
Matt Campbell, 29, collapsed at the 22.5 mile mark and died later in hospital.
He appeared on the BBC's MasterChef: The Professionals in December 2017, and had been running the race - the hottest on record - for his father who died 18 months ago.
His social media posts said that it was his second marathon in a fortnight.
The Kendal chef was running the race for The Brathay Trust in honour of his father Martin.
Donations to his sponsorship fund have risen to more than £53,000 - far exceeding his original target of £2,500.
On 8 April Mr Campbell completed the ASICS Greater Manchester Marathon.
Helen Hokin, who was Mr Campbell's PR consultant, said: "He was a lovely, kind-hearted and down-to-earth man. I believe he was poised to become the next great innovator in British food.
"He was in the middle of a roadshow tour and he had such a way with inspiring young chefs. This is so sad."
Mr Campbell began his career working in Michelin-starred restaurants after finishing second in the BBC's Young Chef of the Year aged 20 in 2009.
According to his website he left the UK for the French Alps and worked in private villas and "award-winning luxury" ski chalets.
A spokeswoman for MasterChef said: "We are shocked and saddened to hear the news about Matt Campbell, one of our talented contestants from last year.
"It was a privilege to have him on the show. He will always be remembered for producing some of the most innovative and groundbreaking food that we saw on the series.
"From the whole MasterChef team, our sincere condolences and thoughts are with his family and friends."
Michelin-starred chef, and MasterChef: The Professionals judge Marcus Wareing, has also paid tribute:
It is with huge sadness that I received the news of Matt Campbell's untimely death earlier today. He was a talented, innovative and driven chef with a bright future ahead of him. My thoughts are with his friends & family at this tragic time.

— Marcus Wareing (@marcuswareing) April 23, 2018
According to his Justgiving page, he only completed his first ever marathon with his late father Martin and brother Josh in 2016.
Speaking of his father he said: "The past year and a half have been the toughest of my life but his spirit and energy live on in me.
"He was the most inspirational man in my life and was the one who said: 'go on, why don't you give it a go? I know you can do it' and entered me into my first marathon."
Food journalist Jay Rayner has tweeted his condolences:
Awful news. I presented Matt with an award for outstanding achievement at last month's Cumbria Life Food and Drink Awards. He was clever and, as my colleague @gracedent said in @obsefood only yesterday, hugely creative and innovative. My thoughts are with his family. https://t.co/jgPuX0aXTe

— Jay Rayner (@jayrayner1) April 23, 2018
Godfrey Owen, chief executive of the Brathay Trust paid tribute to Mr Campbell.
"He was a real creative chef and one of the things he was very keen on doing was sharing that knowledge with young chefs who wanted to get involved in the industry.
"He was such a great athlete and also a wonderful supporter of Brathay."