Penrith flyover 'truly brutal' says council leader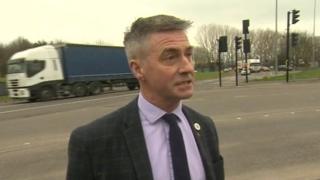 A proposed flyover at a busy junction near the Lake District would be "truly brutal", a council leader has said.
Highways England is considering it as a solution to improve traffic flow around Penrith in Cumbria.
The government body said any plans would be subject to consultation and nothing was confirmed.
Eden District Council leader Kevin Beaty said a A6/A66 junction flyover would "undoubtedly ruin" views of the area of outstanding natural beauty.
"A flyover to join these two roads would be a carbuncle, a truly brutal measure at the gateway to the Lake District," he said.
'Early stages'
The council accepted the junction was busy and supported turning the A66, which joins the nearby M6, into a dual carriageway, Mr Beaty said.
But it favours a relief road to the north-east or south of Penrith, bypassing the A6/A66 junction at Kemplay Bank roundabout entirely.
Extra traffic caused by a flyover would increase pollution for the nearby houses and hospital, Mr Beaty said.
Highways England is dualling the A66 between the M6 in Cumbria and the A1 in County Durham.
It was in the "very early stages" of looking at ways of completing plans to improve journeys across the Pennines, a spokesman said.
Mr Beaty plans to table a motion at a full council meeting on 19 April asking councillors to oppose a flyover.