Norovirus closes Cumberland Infirmary wards to visitors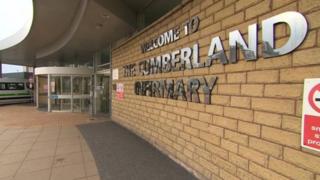 Health chiefs in Cumbria say they are taking the reopening of wards to visitors "one day at a time" following a norovirus outbreak.
Restrictions have been in place at Carlisle's Cumberland Infirmary twice this month because of the vomiting and diarrhoea bug.
North Cumbria University Hospitals NHS Trust said it had been working to contain the outbreak.
But when the hospital reopened to visitors the virus was brought back in.
Dr Clive Graham, director of infection prevention and control at the trust, said: "We're taking things on a day-to-day basis just to make sure we're heading in the right direction.
"We have had some areas which seemed to settle down that we've been able to clean and reopen, but there have been other areas that have been newly infected.
"We'll let people know once it's lifted."
Also known as the winter vomiting bug, norovirus is estimated to affect between 600,000 and one million people in the United Kingdom annually.