HMP Haverigg prison riot 'linked to smoking ban'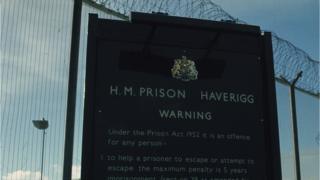 Hours of rioting at a prison last year are thought to have been linked to a smoking ban, a report said.
The damage meant a unit at HMP Haverigg in Cumbria had to be closed for four weeks from August last year and it was made a crime scene.
More than 50 officers helped being it under control, the report by the Independent Monitoring Board found.
But despite a "challenging" year, the report said there were some improvements at the prison.
The report, which covered 1 December 2016 to 30 November 2017, found there were fewer serious incidents than the previous year but August's riot "had a serious operational impact".
Prisoners moved
Trained officers from prisons in north-west England along with National Response Teams brought the unit back under control.
More than 50 prisoners were moved to other prisons afterwards.
Another area of concern was the "widespread use of psychoactive substances" and the impact on the health of prisoners and staff.
The report says part of the reason for that increased use may be the smoking ban which was introduced last year.
An inspection by HM Inspectorate of Prisons last year found there were some improvements at Haverigg but others were still needed.
The start of a Saturday Park Run within the prison grounds was praised, with 20% of the prison population involved.