Michelle Skeer appointed Cumbria Police Chief Constable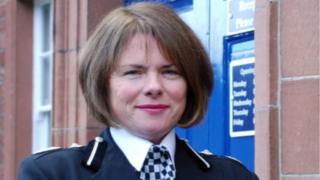 Cumbria's deputy chief constable has been appointed to the force's top job.
Michelle Skeer will take over as chief constable following Jerry Graham's retirement in April.
Ms Skeer was deputy chief constable during the force's investigation into the death of Poppi Worthington in 2012, and in late 2015 performed the role of temporary chief constable.
She said she was "highly honoured" to take on the post, confirmed by the police and crime commissioner (PCC).
Ms Skeer joined the force in 1990 and was gold commander during the devastating floods of 2009 and 2015, co-ordinating the multi-agency response.
She is the first woman to hold the top job in Cumbria, and is currently national lead for the management of sexual and violent offenders.
Cumbria PCC Peter McCall said her appointment followed an "extremely tough selection process".
Ms Skeer said: "I am greatly honoured to be given the opportunity to lead Cumbria Constabulary, my home force, as chief constable.
"I am proud of all the officers and staff, and I am confident and optimistic that with their dedication, hard work and support we will meet the future challenges that the constabulary will face."