Beatrix Potter 'rare' letters sell for £10,000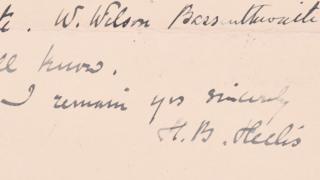 A rare collection of letters by Lake District author and illustrator Beatrix Potter has been sold for £10,000.
The handwritten correspondence was an important and "exciting discovery", Dawson's Auctioneers in Berkshire said.
The five letters were sold with typed responses from an agriculturalist who advised Potter on managing her farm.
Auctioneer Joseph Trinder said their subject matter was "quite extraordinary" because they covered a lesser known part of her life.
"Certainly her primary enjoyment came from the land and farming and conservation," he said.
"We don't know nearly so much about" this second chapter of her life but the letters give a "sense of her passion", he said.
The collection was discovered when direct descendants of her correspondent, Prof James Alec Hanley, were clearing their parents' home, the auction house said.
Kept in the family since they were written, the letters' provenance "sets them apart", Mr Trinder said.
Written in 1942 and 1943, they refer to wartime farming difficulties with Potter expressing frustration with "this war and famine".
She also invites Prof Hanley and his wife for lunch of "mostly lettuces", possibly in reference to her character Peter Rabbit.
Dawson's Auctioneers said the letters were especially significant as the last was written nine months before Potter died.
Their buyer's identity has not been revealed.
However, the auctioneers said the letters had not been bought by a private collector, nor had they been sold out of the country.