Braden Moreton jailed for beating disabled teen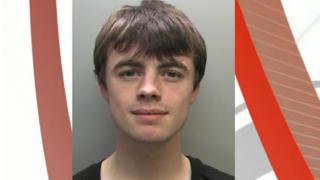 A leader of a drugs gang, who beat and robbed a disabled man he thought owed him a debt, has been sentenced to 14 years in a young offenders institution.
Carlisle Crown Court was told Braden Moreton, 19, of no fixed address, attacked his victim with a hammer, a wrench and even his own crutches.
In an act known as "cuckooing", the teenager had occupied another person's home as a base for the gang's dealing.
He was convicted of robbery and causing grievous bodily harm (GBH).
Moreton had admitted being involved in the supply of Class A drugs but had denied the charges of robbery and GBH.
Judge James Adkin described the "extreme" violence meted out to the victim as "verging on torture".
The court heard Moreton, and another man from Liverpool who has since gone on the run, were involved in the transportation of drugs from Merseyside to Carlisle.
They took over a flat in Harraby which the owner allowed them to use in return for heroin.
It was while operating from there, the "punishment beating" was carried out and the drugs offences were discovered during the subsequent police investigation.
Three other gang members, who admitted being concerned in the supply of drugs, have also been jailed.
Kelly Scott, 37, of Alexander Street, Carlisle, was handed a nine-year term
Gary McCaffrey, 47, of Balmoral Court, Carlisle was jailed for seven years
Stuart Baker, 22, of Southport, was jailed for four years and 10 months
Craig Metcalfe, 37, of Lightfoot Drive, Carlisle, was given a 20-month jail term suspended for two years
Moreton was also given an an extended three-year licence period following the trial which concluded in December.