Sellafield staff 'lacked risk awareness' of out of date chemicals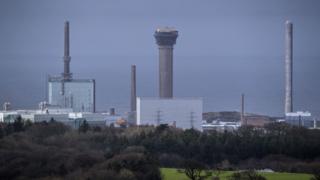 Staff at Sellafield nuclear plant failed to recognise the risks posed by out of date chemicals and had to call explosives experts in to destroy them, a report has found.
The army's Explosive Ordnance Disposal (EOD) team performed a controlled detonation at the site in October.
In its report about the incident, Sellafield Ltd said 1,000 bottles had now been disposed of.
Better procedures were now in place at the Cumbrian plant, the report said.
A small number solvent canisters which had been on the site since 1992 were destroyed by the EOD after concerns they could become hazardous if exposed to oxygen.
'Complex hazards'
The report found "priority was not given to the disposal of redundant chemicals" and there was a "lack of recognition of the risk associated with their degradation".
Recommendations it makes include a site-wide review of potentially hazardous chemicals and a new system for the control of inventories.
Steve Bostock, Sellafield Ltd chief operating officer, said: "The Sellafield site is home to some of the oldest and most complex risks and hazards anywhere in the world.
"It is our responsibility to make sure these hazards are managed in a way that protects our workforce, the local community and the environment.
"I'm confident we now have a full understanding of the circumstances and an improved approach to the management of chemicals, which will also inform our approach to other potential hazards on our site."