Ethan Stables trial: Gay pride attack plan 'to impress friends'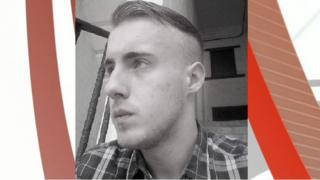 A man has told a jury he posted social media threats to attack people with a machete at a gay pride event to impress his friends.
Ethan Stables, 20, is accused of planning to attack an LGBT event at the New Empire pub in Barrow, Cumbria,.
But he told a jury at Leeds Crown Court that he was actually bisexual and was "ashamed" of the comments he made.
Mr Stables, of Barrow, denies preparing an act of terrorism and threats to kill in June last year.
Prosecutors claim the "white supremacist" had a "deep-seated hatred" of minorities, especially gay people.
The court heard Mr Stables was planning to use an axe and machete during the attack, but the plan was foiled after he told people about it on Facebook.
Giving evidence, Mr Stables denied being homophobic and said he made the comments to impress his friends.
He told the jury: "Actually I am bisexual." Asked whether he had had a same sex experience he replied "yes".
Prosecutor Jonathan Sandiford said there had been no previous mention of Mr Stables' bisexuality.
Mr Stables said he had not previously revealed his sexuality because he feared the reaction from other members of his family.
During cross-examination, Mr Sandiford described claims Mr Stables was trying to fit in with far-right friends as "nonsense".
The court previously heard told Mr Stables was a neo-Nazi who had tried to obtain guns and the means to make an improvised explosive device.
Jurors were told he posted a series of messages in a Facebook chat group which included: "I'm going to war tonight."
He was arrested on his way to a reconnaissance visit to the pub before returning to his home for the machete and axe, Mr Sandiford said.
Mr Stables claimed he had forgotten he owned a machete when writing online that he was going to kill gay people with one, the court heard.
Mr Stables' barrister, Patrick Upward QC, said his client was "a fantasist" who never expected anyone to believe what he posted online.
The trial continues.