Cumbria County Council's children's services 'improved'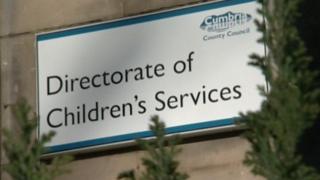 A children's service repeatedly rated as "inadequate" has improved, a government watchdog has found.
Ofsted inspectors had deemed Cumbria County Council was failing in its children's services three times in the last four years.
In the latest study two aspects of the operation were rated "good" but overall services "required improvement".
The council said it now has a clear understanding what was needed and was already taking action.
There are four possible outcomes from an Ofsted inspection: inadequate, requires improvement, good and outstanding - the last one in 2015 rated services as inadequate.
'Service turn-around'
During the four-week inspection in November, the performance of the adoption service and the quality of the directorate's leadership was found to be "good".
However, the report made a number of recommendations for action, including: addressing the lack of foster placements, improving coordination between children's and adult services and health partners and improving the quality of social work practice for disabled children.
As a result of the inspection, the intensified monitoring of the council's performance by the Department for Education will now end.
John Macilwraith, corporate director for children and family services at the county council, said: "It is difficult to 'turn around' a service that has not been performing and this judgement reflects a huge change in our performance and our culture.
"As inspectors note in their report, we have a clear understanding of the areas that require further development to be good and we are already taking action."