Lake District zip wire plan: About 200 attend Thirlmere protest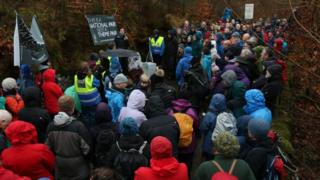 About 200 people gathered to protest against plans for zip wires in the Lake District.
Adventure leisure firm Treetop Trek wants to string two sets of four zip wires across Thirlmere Reservoir.
Friends of the Lake District organised Saturday's rally to show their opposition saying the area was a "national park not a theme park".
Treetop Trek said the £1.8m zip wires would be good for tourism and would not have a big impact on the landscape.
Douglas Chalmers, chief executive of Friends of the Lake District, acknowledged "people enjoy" zip wires but he said Thirlmere was "absolutely the wrong place to put them".
He said: "This is a place people come to for other benefits and experiences."
Mike Turner, director of Treetop Trek, said people worry the project would "scar the landscape and really dramatically change it" but "that's not the case at all".
Mr Turner said the area was already "significantly affected by man" with people paragliding, cycling, swimming, walking and running, all of which "come with environmental impact".
He said the zip wires would be "another fantastic attraction" particularly for younger people who will be the "Lake District lovers of the future".
The Ministry of Defence has previously said the wires would pose a risk to military aircraft.
The Lake District National Parks Authority is due to make decision on the plan in March.