Ethan Stables trial: Landlady's 'fear over neo-Nazi pub plot'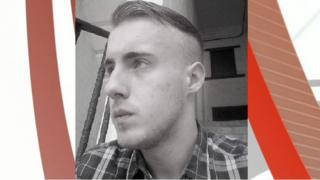 The landlady of a pub that was allegedly the target of a planned attack shook with fear when she was told about the plot, a jury has heard.
Neo-Nazi Ethan Stables, 20, was planning to attack an LGBT event at the New Empire in Barrow on 23 June, Leeds Crown Court heard.
Lorraine Neale told the court she was "extremely concerned" when police told her about the plan.
Mr Stables denies preparing an act of terrorism and threats to kill.
Prosecutors have said Mr Stables, from Barrow, was planning to use an axe and machete during the attack.
The plan was foiled after he told people about it on Facebook, the court heard.
'Surreal'
Mrs Neale said she was "shaking with fear" when police turned up at the pub to tell her about the Facebook threats.
She said armed officers took up positions outside to protect the venue until the defendant could be found.
She described a "feeling of defiance" inside the pub.
Mrs Neale said: "We should not be stopped from enjoying ourselves."
But she said she was "also extremely concerned for my customers".
"The whole incident was surreal," she added.
On Monday, prosecutors told the jury the defendant was a white supremacist and neo-Nazi who was trying to obtain guns and the means to make an improvised explosive device.
The hearing was told he managed to get an axe, machete and knives but no firearms and was "enraged" by the Pride event at the pub.
The jury heard that Mr Stables posted a series of messages in a Facebook chat group which included: "I'm going to war tonight."
He was arrested on his way to a reconnaissance visit to the pub before returning to his home for the machete and axe, the court heard.
Mr Stables' barrister, Patrick Upward QC, said his client was fantasist who never expected anyone to believe what he posted online.
The trial is expected to last two weeks.