Ethan Stables trial: Neo-Nazi 'planned Pride event machete attack'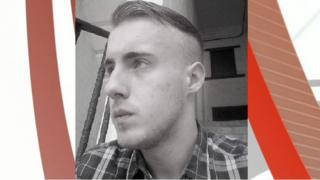 A neo-Nazi's plan to attack people with a machete at a gay pride event was foiled after he told people about it on Facebook, a court heard.
Police were tipped off about Ethan Stables' plan to attack the New Empire pub in Barrow, Leeds Crown Court heard.
The 20-year-old from Barrow denies preparing an act of terrorism and threats to kill.
Prosecutors said the "white supremacist" had a "deep-seated hatred" of minorities, especially gay people.
Prosecutor Jonathan Sandiford, who described Mr Stables, of Egerton Court, as a neo-Nazi who supported Adolf Hitler, said the defendant intended to "launch a murderous attack" on various communities.
The jury heard that over seven months, Mr Stables researched weapons, including how to make his own explosives and firearms.
Mr Sandiford continued: "On 23 June (2017), the defendant became aware that the New Empire public house was going to host an LGBT event, a pride night, and he was enraged by that.
"He began to take photographs, reconnaissance of that public house with a view to launching an attack later that evening."
Mr Stables allegedly told members of a Nazi-themed Facebook chat group he planned to murder people at the pub - but one woman in Staffordshire who spotted the messages was so concerned she contacted police.
Cumbria Police arrested Mr Stables close to the pub at about 22:00, the moment they said he was carrying out his last act of reconnaissance before intending to return later with weapons, the jury was told.
But in a statement to the jury, Patrick Upward QC, defending, said his client was not a white supremacist but more a "fantasist".
He said Mr Stables' posts were vile, but added: "He never expected anyone to believe what he had to say."
He also told the jury the defendant has Asperger's Syndrome, a favourite uncle who is openly gay and a best friend who is black.
The trial is expected to last two weeks.