Date for Carlisle airport to run commercial passenger flights again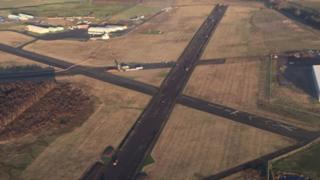 Commercial passenger flights will be run out of Carlisle Lake District Airport from June, it has been announced.
The Stobart Group said services will be run to destinations including London, Dublin and Belfast.
The Cumbria Local Enterprise Partnership (LEP) has pledged £4.95m to develop the runway and terminal, saying it will benefit tourism.
The airport has not been used for such flights since 1993.
LEP chief executive Graham Haywood said the airport will have a "huge impact" on tourism.
"Developing the airport's passenger offer will provide smoother, quicker access to local tourism attractions and help to increase international tourism visits," he said.
Mr Haywood also said it would be good for businesses and industries in the area.
The airport is currently used by flying schools, private flights and the military.