Poppi Worthington: Toddler sexually assaulted, coroner rules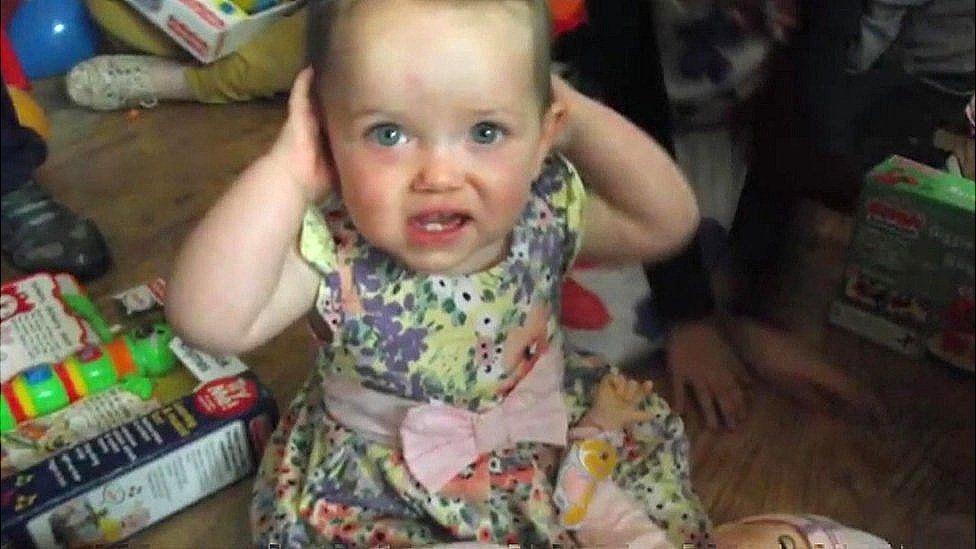 Toddler Poppi Worthington was sexually assaulted by her father before she died, a coroner has ruled, finding her death was caused by asphyxia.
Coroner David Roberts said Paul Worthington assaulted his daughter in his bed, laid a cover over her and went to sleep.
He said she died because her ability to breathe was compromised as a result of "an unsafe sleeping environment."
Mr Roberts said her father's account of events did not "stand up to scrutiny".
During the three-week inquest at Kendal Coroner's Court, Poppi's father declined to answer 252 questions relating to the circumstances surrounding her death on 12 December 2012.
However, Mr Worthington did tell the hearing he had gone to get Poppi a fresh nappy and a few minutes later he reached over and found her limp.
He said he rushed downstairs and Poppi's mother, who was asleep there, called an ambulance.
The 13-month-old was pronounced dead at Furness General Hospital shortly after.
Having heard contradictory evidence from expert medical witnesses, Mr Roberts said he believed Mr Worthington sexually assaulted Poppi, probably with a finger, and the assault stopped when the youngster cried out in pain.
He said a conclusion of unlawful killing was not available to him as he was not satisfied beyond reasonable doubt that Poppi died from an act of murder or manslaughter.
He said: "Although I have found, on the balance of probabilities, that Poppi was anally penetrated prior to her death, I have also found that she did not die in the course of or immediately following the penetration and the penetration did not cause her death."
Mr Roberts added Poppi was suffering from an upper respiratory tract infection which, along with being placed in her father's bed, compromised her ability to breathe.
A "short-form accidental death" verdict was also considered but ruled out as inappropriate as he did not conclude the death had resulted from an "unintended act or omission or is the unintended consequence of a deliberate act or omission".
Lawyers acting for Mr Worthington, 50, said he was "considering his options".
In January 2016 - as part of family court proceedings - a judge revealed in his findings that Mr Worthington "probably" sexually assaulted his daughter shortly before her death.
Mr Worthington has denied any wrongdoing and has not been charged with any offence, with the Crown Prosecution Service saying there is insufficient evidence.
During the inquest Mr Worthington declined to answer more than 250 questions, citing his right under rule 22 of the Coroners and Justice Act not to incriminate himself.
His sister, Tracey Worthington, said she "didn't blame" him for refusing to answer.
She said: "He's gone through all this process over the last four years, five years. And everything that's been dumped on him. No, go with the solicitor's advice.
"I don't have to be convinced he's done nothing. I know."
In a statement read by her solicitors, Poppi's mother, who cannot be named for legal reasons, described the five years since the youngster's death as a "complete nightmare".
She added she was "disappointed" Mr Worthington refused to give evidence and "considers he should have given the coroner the crucial evidence on Poppi's last few hours".
The inquest was told an investigation by Cumbria Police was so botched vital evidence was lost and Jerry Graham, Chief Constable of the force, apologised for "deficiencies" in its handling of the case.
He said: "It is clear the initial investigation into Poppi's death launched in 2012 has done little to assist the coroner in coming to a conclusion on how Poppi died. I greatly regret this."
Mr Graham said he would speak to the Crown Prosecution Service (CPS) to "determine possible courses of action".
However, a CPS spokesman said there were "no plans" to review charging decisions in relation to the case but "we would of course consider any referral from the coroner".
Calling on the Home Secretary to launch a public inquiry, Labour MP for Barrow John Woodcock, said: "That little girl will probably never get justice because of grotesque failings into the police investigation into her death.
"But we owe it to her to campaign for a public inquiry that can expose all that is rotten in the system that has led us to this terrible day."
Lead detective on the inquiry Det Insp Amanda Sadler was subjected to a disciplinary hearing last year where gross incompetency was proven and she was demoted in rank.
She has since retired along with her boss, former Det Ch Insp Mike Forrester. No further action was taken against either.
In 2015, the Independent Police Complaints Commission concluded both Mrs Sadler and Mr Forrester had cases to answer for gross misconduct.
The inquest was the second hearing into Poppi's death.
The first, in 2014 with a different coroner, lasted less than eight minutes and concluded the cause of her death was "unascertained".
Related Internet Links
The BBC is not responsible for the content of external sites.