Poppi Worthington inquest: DNA evidence 'tends to exclude' possibility of assault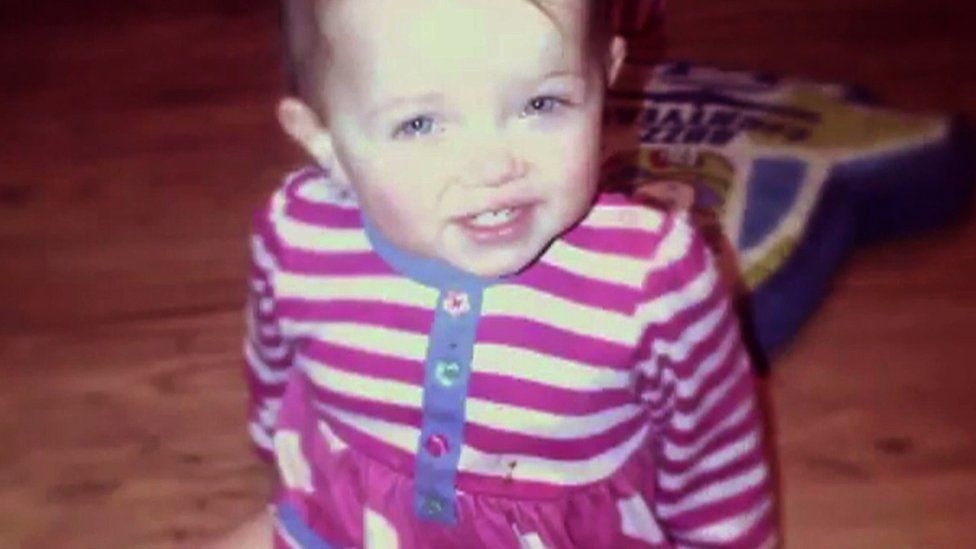 DNA evidence taken from Poppi Worthington and her father "tends to exclude" the possibility he sexually assaulted her, an inquest heard.
Forensic scientist Michael Scarborough tested swabs from the 13-month-old and her father, Paul.
He said Poppi's DNA had been found on her father's penis but his findings tended to exclude penetration as the reason for its presence.
None of Mr Worthington's DNA was detected inside Poppi, he added.
If Mr Worthington had Poppi's DNA on his hands and later went to the toilet, for example, then the DNA "would have likely" transferred, Mr Scarborough told the inquest in Kendal.
Poppi died suddenly at her home in Barrow on 12 December 2012.
In 2016, High Court family judge Mr Justice Peter Jackson ruled she was probably sexually assaulted by her father shortly before she died.
No-one has been prosecuted and Mr Worthington has always denied any wrongdoing.
The inquest also heard from Dr Alan Sprigg, a consultant paediatric radiologist, who reviewed a skeletal survey which showed injuries to one of Poppi's legs.
He reiterated his opinion, given in his initial report, that the fractures could have been accidental but said the girl would probably have cried out in pain, alerting her carers to her injury.
The hearing also addressed the mystery surrounding Poppi's favourite pink elephant pillow, which she slept with every night, and a blanket which may have had blood on it.
Pictures of Mr Worthington's bedroom, taken by police on the morning of her death, showed the pillow on his bed.
The inquest has heard Poppi's mother assumed Cumbria Police had taken the pillow as she had not moved it.
She had been living at her mother's house but did return to her own home to collect belongings, she said.
Mr Worthington had been in the house alone at some points, she said.
Police did not seize the pillow and neither it nor the blanket have been accounted for, the inquest was told.
A consultant pathologist at Great Ormond Street Hospital, Dr Liina Palm, was asked for her opinion on findings already raised at the inquest.
She said she could not detect injuries to the child's bottom described by Dr Alison Armour, but "could see" why Dr Armour thought she saw them.
Asked if the blood found on two sheets and seen on Poppi's bottom "requires explanation", she replied that it did.
She could not identify where it had come from, she said.
It is "virtually impossible" to know whether bleeding occurred before or after death, Dr Palm said, due to a five-day delay before the post-mortem examination was carried out.
Marks identified by Dr Armour near Poppi's fallopian tube, pharynx and oesophagus would most likely have been caused by resuscitation attempts and signs of haemorrhages in her lungs were consistent with sudden death in children, she added.
The pathologist said she could not determine any medical cause of death.
Related Internet Links
The BBC is not responsible for the content of external sites.