Poppi Worthington inquest: Father refuses to answer questions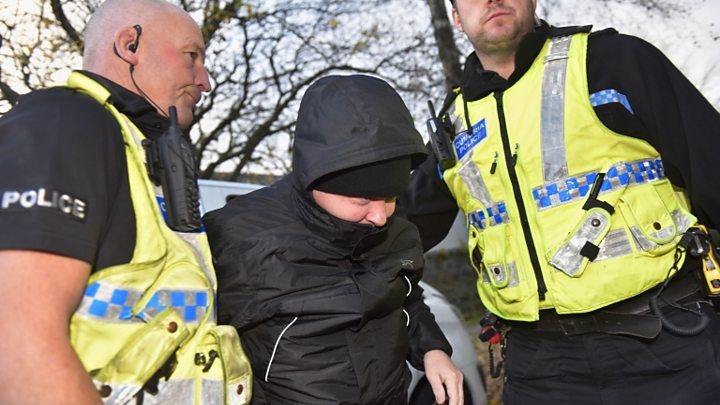 The father of a 13-month-old girl who a judge said probably sexually assaulted her before she died has refused to answer questions about her death.
Poppi Worthington died suddenly at a house in Barrow, Cumbria, in December 2012. No-one has ever been prosecuted.
Her father Paul Worthington, 49, was escorted into a second inquest hearing in Kendal by police officers.
He used his right to refuse to answer 69 questions about her meals, sleeping patterns and health.
Mr Worthington first attempted to decline answering questions on when his relationship with Poppi's mother began, under rule 22 of the Coroner's Inquest Rules 2013, which protects witnesses from incriminating themselves.
But coroner David Roberts said the rules did not apply to "scene-setting questions".
Mr Worthington said the "on and off" relationship began in 2009.
Mr Worthington told the coroner that Poppi's birth was unplanned and he later had a vasectomy.
He said Poppi was "generally fit as a fiddle" and was a good sleeper who would sleep through the night, and was usually the first of the household to wake up.
Alison Hewitt, counsel for the coroner, asked him if he normally heard Poppi when she woke up as he often slept in the next room. He declined to answer.
Poppi's mother previously told the inquest her daughter would usually rub her bottle along the bars of her cot and shout "mum" when she woke up.
Mr Worthington was then asked a series of questions about the morning routine on 11 December, the day before Poppi died.
He replied to each: "I refer to my previous statements, I rely on my right not to answer under rule 22."
Ms Hewitt read a previous statement he had given, in which he said he got Poppi out of bed and took her downstairs.
He said she was playing normally and seemed fine.
Ms Hewitt asked him about statements he had given about going to bed that night with a laptop.
She asked him what the laptop was being used for. He declined to answer.
Ms Hewitt then read him what he had said in the High Court.
When asked what he was looking at, he had said football results, Facebook and then "X-rated adult stuff for 10 minutes before going to sleep".
Ms Hewitt asked the nature of the pornography, he again refused to answer.
The inquest previously heard Poppi's mother got the laptop at about 02:00 GMT and took it downstairs with her.
Ms Hewitt asked Mr Worthington if he was then the only person who could account for what happened upstairs before he ran down with Poppi shortly before 06:00 on 12 December. He declined to answer.
She also asked him what happened to the laptop, he again declined to answer.
Mr Worthington has never been charged with any offence and denies any responsibility over her death.
The new inquest, in County Hall, Kendal, was ordered after a seven-minute hearing in 2014 determined Poppi's death was "unascertained".