Workington teenager 'found in ripped clothes after rape'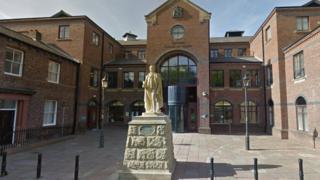 A 15-year-old girl who told police she was gang-raped by four schoolboys was found in ripped clothes and in tears by friends, a court has heard.
The girl said the boys took turns to rape her in a muddy field in Workington on 3 January.
All four boys, who are under the age of 16, deny rape and sexual assault.
Jurors at Carlisle Crown Court watched a police interview with another teenage boy who said he and three friends found the girl "distressed and in shock".
The court heard the boy called 999 after fearing the "very drunk" girl had gone missing "with four lads" at about 19:00 GMT.
He said after searching for a while in the darkness they discovered her in the field.
'Mud-spattered trousers'
In the police interview, he said: "She just had a top on and, like, clothes ripped, and she was crying.
"She looked like she was going to have a mental breakdown."
The court heard other witnesses reported seeing the "hysterical" girl with "mud-spattered trousers".
Jurors were told a jogger also reported to police that she heard "the sound of screaming" in the area at around 19:15.
"I just presumed it was kids messing about," she told officers.
Another friend of the girl told police she had, before going off with the boys, "lifted her shirt up to her stomach" in the street.
However, the girl denied doing this during earlier cross-examination.
The prosecution alleges the accused boys took part in a "pack" sex attack, but the boys claim the girl consented to sexual activity.
The trial continues.