Bronze Age find made during Lake District Viking search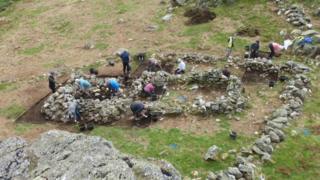 Archaeologists looking for Viking remains have found artefacts that are 2,000 years older.
The dig at Longhouse Close on fells above Seathwaite, Cumbria, was excavating Norse longhouses, dating from the early 10th Century.
But 70 volunteers, led by professional archaeologists, have uncovered remains of a Bronze Age settlement underneath the Viking structures.
Duddon Valley Local History Group said the discovery was "highly significant".
Chairman Ken Day said finding what appeared to be two longhouses on one site "was a surprise to us to start with".
But "the carbon dating of the material that we found showed it to be 1300 BC - that was something we were not expecting," he said.
The history group won lottery funding to bring in professional archaeologists to work with members on the dig.
Their three-year survey of the Duddon Valley identified 39 structures which could be Norse longhouses.
Fourteen were thought worthy of preservation and investigation. Of these, three were chosen for further excavation.
Remains of fireplaces have been found along with evidence the site had been in continuous use as a settlement up to the 16th or 17th Century.
But further confirmation was needed, Mr Day said.
"We are desperate to find a date for a longhouse," he said.
"We know we've got one, but we need to prove it."