Shelved strikes by Sellafield GMB fire crews to go ahead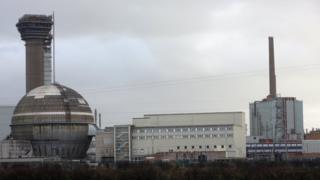 Firefighters at the Sellafield nuclear reprocessing plant in Cumbria are to strike in a dispute over pay grades.
More than 60 members of the GMB union voted to take action in July, but this was shelved to allow for further talks.
The union said these had now broken down and 12-hour walkouts would take place on 17 and 19 October.
Sellafield Ltd said it remained open to further discussions, and was putting in place arrangements to ensure the site remained safe during any action.
'Feel insulted'
Chris Jukes, from the GMB, said: "Members have been receptive to management when they have been looking at work in what is known as warm zones areas - in other words, firefighters entering areas where a catastrophic incident might take place.
"Sellafield Ltd management made what GMB believed was an offer in good faith a couple of months ago to resolve this dispute, which dates back years, by introducing a warm zone allowance by the end of September.
"Management have broken their promises with the latest offer at the end of last week.
"GMB members feel insulted that management have taken this approach and even more incensed when management have expressed 'disappointment' with the response from GMB negotiators to the latest offer."
Sellafield Ltd said in a statement: "We made an offer to the firefighters which included an additional allowance for carrying out extra work.
"We agreed to work with the GMB and the firefighters to assess the value of that allowance. We remain open to further discussions.
"Our focus is on putting in place arrangements to ensure the site remains safe during any industrial action."