New recruit joins Lake District fell top assessors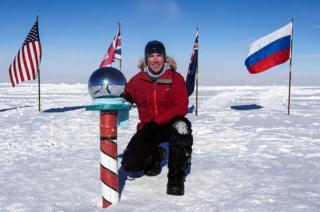 A mountaineer who has lent his expertise to popular TV shows is to hike one of England's highest peaks providing weather updates.
Zac Poulton is joining the Lake District National Park fell top assessors who trek up Helvellyn each day from December until April.
The team take turns making the climb to the 950m (3,114ft) summit to report on conditions for the Weatherline service.
Mr Poulton has acted as a consultant on shows including Planet Earth II.
He has also reached the summit of Everest as well as Himalayan peaks.
The Australian, who lives in Caldbeck, Cumbria, will provide safety advice to walkers as well.
"I've always known of the role of fell top assessors and thought it'd be a job I'd really enjoy so close to home," he said.