South Lakes Safari Zoo: Lemur 'climbed onto baby's pram'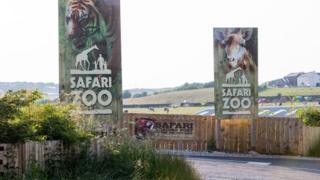 A lemur climbed on to a baby's pram at a zoo where a keeper was mauled to death by a tiger, inspectors have said.
Reports of visitors being bitten and chased by lemurs were also raised during an inspection of the South Lakes Safari Zoo in Cumbria in August.
The Dalton-in-Furness site, which is under new management, said significant changes had been made to ensure public safety since the inspection.
Barrow Council is considering whether the zoo can keep its licence.
Keeper Sarah McClay was mauled to death by a tiger in 2013 - leading to a £297,500 fine for the zoo over health and safety breaches.
In February of this year, a council report revealed 486 animals had died there in four years.
The zoo was refused a renewal of its licence in March after concerns were raised about how its founder David Gill ran the site.
However, that was reversed after a takeover by a firm formed by staff saw improvements and a "change of culture".
'Minor concerns'
The latest local authority inspection has prompted animal welfare charities to call for the zoo to be permanently stripped of its licence.
In their report, inspectors said sessions where the public were allowed to feed lemurs "had the potential for them to be bitten".
They said staff had to intervene when one lemur climbed onto a baby's pram. No-one was hurt.
Squirrel monkeys had also been seen jumping on visitors and inspectors expressed "minor concerns" over the welfare of some animals, including antelope and kangaroos.
Maddy Taylor of the Captive Animals Protection Society said: "This team and management at the zoo have a history of being involved when animals have been neglected and mistreated and should not have a licence."