Fell Foot revamp: Lake District park gets lottery cash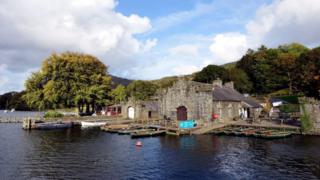 A project to restore a Lake District country park has been handed a £684,000 lottery grant.
Fell Foot Park, on the shores of Windermere, is visited by more than 150,000 people a year.
But the National Trust, which owns the site, says its historic boathouse complex and arboretum are in a state of disrepair.
The Heritage Lottery Fund (HLF) cash will go to returning the park to its 19th Century glory.
Fell Foot, which features sweeping lawns, rowing boats and a shop, is mainly used for camping, swimming and events and is one of the few places where the public can access the southern half of England's longest lake.
The restoration project will involve the conservation of five boathouses, making them flood resilient and suitable as community spaces, while the arboretum and surrounding landscape will get new paths and better drainage.
Public access to the waterfront will also be improved.
A National Trust spokesman said: "For nearly 70 years local people have been coming to enjoy access to the lake, the wonderful views and the parkland.
"This funding will help us tell the extraordinary story of Fell Foot, provide access to new areas, respond to winter flooding and lift the visitor experience to a new level."