Sellafield nuclear site workers walk out on strike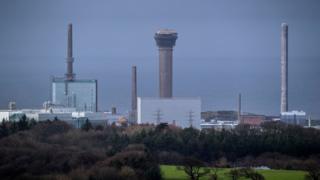 About 3,000 workers at the Sellafield nuclear site have started a 24-hour strike in a dispute over pay.
Members of the GMB union walked out at 06:00 BST in protest at an imposed 1.5% pay rise, although minimum safety levels will be maintained.
GMB said pay in recent years failed to keep up with inflation while managers received "eye-watering bonuses".
Sellafield Ltd, which employs 10,000 people, described their offer as "fair and reasonable".
Talks between the two sides over the past week failed to break the deadlock.
GMB official Chris Jukes accused the company of "macho management" and creating an "upstairs downstairs culture" with shop floor workers having to accept "below-inflation pay rises under sufferance".
He also said terms and conditions for new starters have worsened and from next year workers will have to increase their pension contributions,.
A Sellafield spokesman said the rise was "based on company affordability".
He said: "Our priority will be to ensure the site remains safe and secure.
"We are grateful to the GMB for agreeing to provide safety cover during the strike."