Carlisle knifepoint park robbers jailed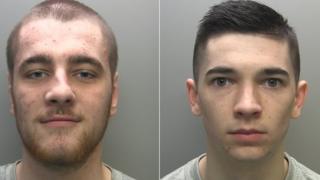 Two men who robbed a woman in a park at knifepoint have been jailed.
Ben Addison, 19, and Kai Bowman, 20, held a blade to the 32-year-old woman's face in Melbourne Park in Carlisle on 28 March.
The robbery "effectively destroyed" the woman, who has suffered from nightmares since, Carlisle Crown Court heard.
Addison was jailed for nine and a half years and Bowman for eight years eight months after they admitted robbery and threatening with weapons
'Terrifying ordeal'
The court heard the pair approached the woman as she walked through the park at about 21:00 BST.
With their faces concealed, they took her handbag and mobile phone leaving her screaming and crying.
Homeless Bowman also admitted perverting the course of justice having asked a relative to lie about his whereabouts on the night.
Addison, of Melbourne Road in Carlisle, was also sentenced for other crimes including another knifepoint robbery at a Carlisle off-licence on 19 March and assaults on two women.
Det Con Deborah Story, of Cumbria Police, said it was a "terrifying ordeal" for the victim.
She said: "I hope that at some point Bowman and Addison take into account the fear they caused to an innocent woman who was simply making her way to work.
"While both men pleaded guilty to the offences, I doubt that they feel any remorse and they thoroughly deserve the sentences imposed."