Sellafield decommissioning: Nuclear waste silo opened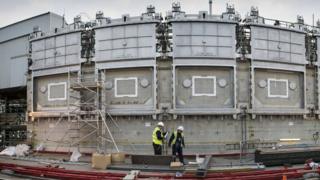 What is thought to be the world's oldest nuclear waste stores has been cut open for the first time.
The so-called pile fuel cladding silo at Sellafield, which is undergoing decommissioning, holds radioactive material dating from the 1950s.
The first of six holes has been cut, and once all are complete, specialist retrieval machinery will start removing the contents from 2019.
Each aperture will be sealed with a 124-tonne steel door.
Preparations - involving practising the cutting operation at a full-scale replica test rig in Rosyth, Scotland - have been under way for a number of years.
The work is being carried out by Sellafield Ltd, along with Bechtel Cavendish Nuclear Solutions and Babcock Marine Technology.
Steven Carroll, from Sellafield Ltd, said: "The level of challenge involved with this facility is unparalleled, considering the age of the building, the lack of historical information about the waste itself, the argon atmospherics, and its position on one of the most congested footprints of any site, anywhere in the world.
"Despite this, the teams have carried out some world-class engineering in difficult environments to get us closer to getting the waste out and into safer storage, earlier than planned."
To remove the waste, a crane will extend through the cut holes, and a grabber will drop down to scoop the waste up.
It will be lifted out of the container and into a specially-designed metal box, and taken for "safe and secure storage elsewhere".