Sellafield nuclear processing plant workers to strike over pay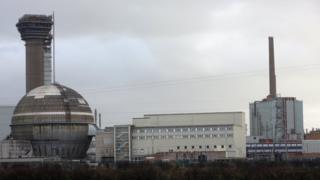 Hundreds of workers at the Sellafield nuclear reprocessing plant in Cumbria are to strike over a pay dispute.
Members of the GMB union said they were angry the company which runs the site had imposed a 1.5% pay increase.
About 2,000 members of the Unite union are also due to be balloted as part of the same dispute.
Sellafield Limited said it was "disappointed" at the ballot result and was working to ensure the plant would remain safe during any stoppage.
GMB said 60% of its 2,545 members at Sellafield had voted in the ballot with 76% (1,165) voting in favour of strike action.
A GMB spokesman said: "Our members have had enough of the company imposing their pay upon them.
"The vote to strike comes after the company ignored repeated requests for further talks and instead imposed a below-inflation pay offer of just 1.5%.
"The Unite union is also due to ballot its 2,000 members at Sellafield."
A separate dispute about grading involving 63 Sellafield firefighters, who are also members of the GMB, has already seen strikes in June and July.
No date has yet been set for the latest strike action.