Cumbria County Council's £21.6m legal bill in contractor row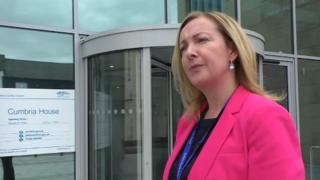 Cumbria's citizens have been left with a £20m legal bill after a row between the county council and a contractor.
Cumbria County Council had witheld payments to roads maintenance firm Amey amid claims the company had done substandard work during a £272m contract.
A court later ordered the council to pay Amey more than £5m.
Critics accused the council of "wasting money" - said to be the equivalent of £40 per council tax payer.
Kevin Beaty, the Conservative leader of Eden District Council, said the county council needed to "understand the very expensive consequences of its decisions".
Mr Beaty said: "It seems that at a time of austerity and low budget from the government the county council is wasting money on this sort of thing."
He said the costs incurred by the council amounted to £40 per person in Cumbria.
In a report the council said no records existed to identify who made the final decision to withhold cash from Amey and that it was not considered by the council's Cabinet.
The report makes 20 recommendations, including the drafting of clearer contracts and better scrutiny of work carried out.
The report also said the council underestimated the reaction of Amey to payments being withheld.
Analysis by Richard Moss, Look North political editor
The council's decision in 2012 not to renew Amey's contract, withhold payments and challenge the company's standard of work backfired spectacularly, ending in a costly loss in a court case.
And there will be those who see the affair as a cardinal example of why councils should not hive off services. Cumbria's deal was particularly complicated. At one stage Capita, another private company, was being paid to manage Amey on the council's behalf.
But today's report chooses to highlight failings in council management rather than drawing wider conclusions.
The use of private companies is probably here to stay, but it may not be as lucrative as it once was. Amey's highways division lost £77m in 2016.
And ever-tighter public finances mean councils, contractors, and more importantly taxpayers, will pay a high price if they end up in the kind of bitter dispute exposed in Cumbria.
Report author Paul Robinson, the council's assistant director of transformation, confirmed no-one had been disciplined over the affair.
Council chief executive Katherine Fairclough said: "Steps have already been taken to respond to the recommendations and we are confident that the additional Action Plan will also help drive forward the improvements that are needed and will help us avoid any similar issues in the future."