Debt-laden drug dealer Liam Benfield jailed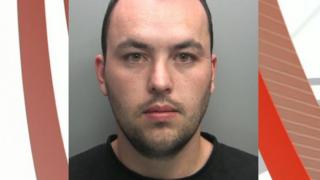 A 27-year-old man who claimed he became a drug dealer because he was in debt has been jailed.
Liam Benfield was found hiding in a locked toilet in Walkabout bar in Botchergate, Carlisle, on 25 June, the city's crown court heard.
Police recovered about £1,750 worth of heroin and cocaine from him.
Benfield, of Insall Road, Liverpool, admitted possessing class A drugs with intent to supply and was jailed for three years and eight months.
He was also found with hundreds of pounds in cash on him, the court heard.
Sentencing judge Peter Davies told Benfield: "I have had a lot of cases in the last 12 to months where Carlisle is being used as a turf for drug dealers - and it is going to stop."