Three osprey chicks confirmed at Foulshaw Moss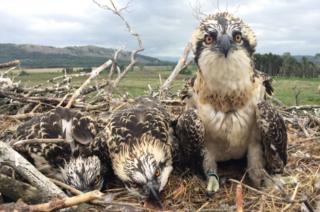 Staff at a nature reserve got a pleasant surprise when they discovered they had an extra osprey chick.
Two chicks had already been confirmed at Foulshaw Moss Nature Reserve in the Lake District in April.
But when Cumbria Wildlife Trust were able to get close to the nest they discovered a third had appeared. Each chick has now been fitted with a tracking tag.
The rare birds of prey returned to the reserve in 2014.
Reserve officer Paul Whitehouse said he was pleased with the discovery.
The new chicks' parents have produced eight young ospreys over the past three years at the reserve.
By late July the trio should be flying and will learn to fish before they migrate to Africa.
There are thought to be between 200 and 250 breeding osprey pairs in the UK most of whom are in Scotland.