Lightning-hit Courageous Tree named best Cumbrian tree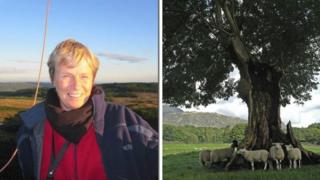 An ash tree damaged by a lightning bolt which inspired a woman to battle cancer has been voted the best in Cumbria.
The Courageous Tree, near Coniston Water, got more than 500 votes in a Heritage Lottery fund project, Cumbria's Top 50 Trees.
Sue Bond, 61, said it was a "survivor" that inspired her to be brave just before she died of lung cancer.
Second place was a beech stump at Talkin Tarn, and third, a hawthorn in Asby Common, Eden.
In her nomination Mrs Bond, of Hawkshead, who died earlier this year, said: "It is my friend. It has beauty, courage and deserves love. It has suffered severe damage and trauma, yet it clings to life with amazing tenacity."
"This tree encourages me to be tenacious and hopeful."
The winning tree will now go through to represent Cumbria in national and international tree competitions.
Forester and project co-ordinator Iris Glimmerveen said: "The top three are perhaps not the most remarkable in some people's eyes.
"But the human stories behind them inspired thousands of people to vote for them."
She added: "It quickly became apparent that Sue's powerful connection to this tree inspired the public.
"From the first day our website opened for votes at the beginning of March it took a lead and never lost it."
She said the aim of the project was to encourage local authorities, landowners and official bodies to look after individual trees.