Morecambe Bay maternity risk manager struck off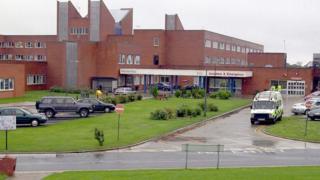 A senior midwife whose conduct "brought the profession into disrepute" has been struck off the nursing register.
Jeanette Parkinson was maternity risk manager at Furness General Hospital in Cumbria when she failed to adequately investigate the deaths of two mothers and four babies.
Prior to a misconduct hearing at the Nursing and Midwifery Council (NMC), she admitted she was unfit to practise.
An independent panel has now imposed a striking-off order.
Ms Parkinson was one of the midwives caring for newborn Joshua Titcombe, who died at Barrow's Furness General Hospital in November 2008.
A review into his death highlighted major failings by midwifes and a reluctance to properly investigate similar deaths.
'Sincerely apologise'
NMC chairman Matthew Fiander said: "Ms Parkinson was expected to ensure that inadequate practise was identified and appropriately addressed.
"The public place trust and confidence not only in individual midwives but also in senior midwives to support junior colleagues, to hold them to account, and to properly manage clinical risk.
"In failing to adhere to these expectations, Ms Parkinson has brought the profession into disrepute."
It is the seventh and final fitness to practise hearing in connection with the scandal - two other midwives have been struck off and another suspended.
Jackie Smith, NMC chief executive, said: "As I have said before, these cases have taken far too long to conclude and I would like to sincerely apologise again to the families affected.
"As an organisation we are reflecting on what can be done to make sure cases do not take so long to conclude in future."