Striking Sellafield contractors back at work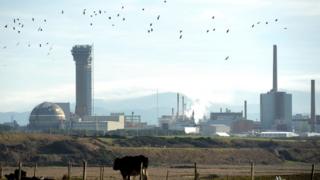 About 1,100 contractors who walked out of the Sellafield nuclear reprocessing plant in Cumbria last week have returned to work.
The workers, including scaffolders, electricians and mechanics, walked out on 7 June in a row over working conditions.
The Unite union, which represents the majority of the workers, said it was in talks with management.
A spokesman for the site said security and operations had been unaffected.
The dispute centred on the condition of some changing facilities.
A union spokesman said it was confident issues could be resolved.
Sellafield Ltd, which operates the site, said it was aware of the issues and was working with union officials to address the concerns of the contractors.
In January, the complex was hit by four 24-hour strikes by contractors in a row over their contracts of employment.