Cumberland Infirmary visiting ban lifted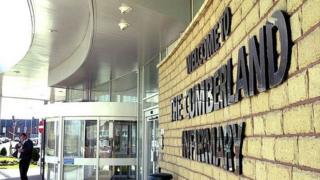 Hospital bosses in Cumbria have lifted a suspension on visitors imposed following an outbreak of norovirus.
The order had been in place at Carlisle's Cumberland Infirmary since 25 January.
The temporary ban has allowed the outbreak to be brought under control, officials said.
All but three wards are now virus-free. Restrictions remain in place in affected areas.
North Cumbria University Hospitals NHS Trust renewed its appeal for people who have had diarrhoea, vomiting or flu-like symptoms in the past 48 hours to stay away.