Cumbria PCC Peter McCall: No further action over speed offence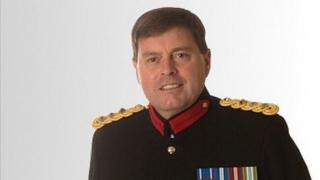 No further action is to be taken against Cumbria's police and crime commissioner after he admitted to a speeding offence.
Conservative Peter McCall said he was "embarrassed" after being caught driving at 36mph in a 30mph zone while on holiday in August.
The matter was referred to the police watchdog, which has concluded no further investigation is necessary.
In turn the county's police and crime panel said the matter was now closed.
'Openness and integrity'
A spokesman for the panel, which oversees the work of the commissioner, said: "The Independent Police Complaints Commission (IPCC) has confirmed it is not necessary to investigate the matter further.
"The IPCC has referred the matter back to the panel.
"The monitoring officer has delegated authority to deal with such matters and has decided that no further action needs to be taken in this matter.
"The police and crime commissioner has made his regret clear and has acted with openness and integrity subsequent to the incident.
"The monitoring officer considers the incident does not affect the commissioner's ability to perform the duties of his office."
Mr McCall received a ticket for the offence and opted to attend a speed awareness course.