Whitehaven Academy hit by teacher strike action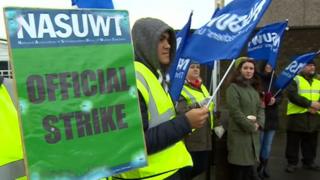 A Cumbrian school has been forced to cancel lessons after teachers staged a 24-hour strike.
Members of the NASUWT claim their relationship with the trust running Whitehaven Academy has broken down.
The school, which caters for 620 pupils, was rated inadequate by Ofsted inspectors last October and told it must improve leadership.
The Bright Tribe Trust, which runs the school, said it was working to tackle known issues.
A union spokesman said: "Teachers have serious concerns about the way in which they are being managed and the working environment in the school, all of which directly affects the quality of education they are able to deliver to pupils.
Significant problems
"The NASUWT has made every effort to secure an agreed way forward and avoid strike action, but there has been no serious attempt by the employer to address the concerns of teachers over these issues.
"Teachers' patience has been exhausted. In order to avoid further strike action the employer must genuinely commit to working with the NASUWT to fully address these issues and support teachers to be able to do their best for the pupils of Whitehaven Academy."
Academy executive principal Jeremy Rowe, said the trust had inherited significant problems.
But he added: "We can definitely deliver in this school. The children are magnificent and the parents know that.
"It is time for the school to actually deliver and achieve what its potential suggests that it should have been for years.
"We can do it, but we can't do it today. So let's get back to work and get it sorted."
The school said classes for Year 11 pupils were held as normal.