Lorry with 9,000 chickens overturns on A65 at Lupton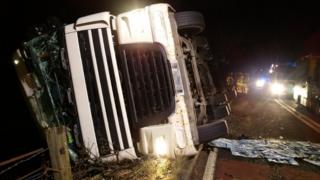 A lorry carrying 9,000 chickens has overturned on a Cumbrian road.
The crash happened on the A65 at Lupton, in South Lakeland, shortly before 02:00 GMT.
A vet and RSPCA inspectors were called in to assist emergency services. Most of the birds were in crates, but it is understood some escaped.
The driver of the vehicle was taken to the Royal Lancaster Infirmary, although his injuries are not thought to be life-threatening.
The road is expected to remain closed for several more hours, Cumbria Police said.
Insp Jo Fawcett said: "The RSPCA and a vet were called promptly. They will be offloading the crates of chickens in order to safeguard the birds.
"Inevitably there will be some fatalities, but the vet and RSPCA are there to ensure this is minimised."