Armed robber Mark Mercer kicked by victim gets 18 years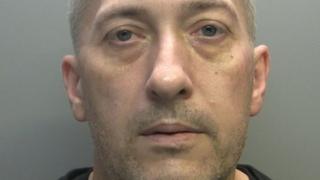 A robber who was kicked by a victim when he threatened to shoot her has been jailed for 18 years.
Drug addict Mark Mercer, 47, threatened three female staff in Maryport Post Office with a fake revolver as he demanded cash.
He fled with about £1,000 after one of the women kicked him in the leg.
Appearing at Carlisle Crown Court, Mercer of Toll Bar Houses, Distington, admitted 10 offences including robbery.
The court heard Mercer's victims were traumatised after the robbery on 25 January.
'Bully and thug'
One of the women kicked him after he brandished the fake gun and shouted "I will shoot".
He was caught by armed police in Carlisle's Lanes Shopping Centre the next day.
The robbery was one of several crimes committed by a "desperate" Mercer between late 2015 in early 2016.
A Cumbria Police spokeswoman said: "Mercer was a bully and a thug who targeted women to steal from.
"His actions at the post office were shocking as he held a revolver towards a woman who bravely stood up to him.
"He is a danger to society and west Cumbria is a safer place for his imprisonment."