Teachers threaten strike as Whitehaven Academy put in special measures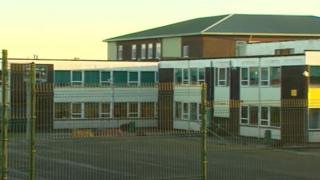 Teachers at an academy placed in special measures are threatening to stage industrial action if the trust that runs it is not removed.
Whitehaven Academy has had six head teachers and been placed in special measures since the Bright Tribe charitable trust took over in 2014.
Now all 70 staff have signed a letter threatening action if the trust is not gone by 13 December.
Bright Tribe said it was disappointed and had inherited "historic" problems.
A spokesman also said the trust had invested more than £400,000 in the school and planned a further £500,000 on a revamp over the next 12 months.
Teachers claim the school is in a state of disrepair with crumbling windows and a lack of equipment including computers.
'Reducing morale'
The letter has been sent to the Secretary of State for Education and Cumbria County Council.
It said: "Trust visits to our school are still without focus, sporadic and both judgemental and extremely stressful, further reducing our morale and not providing us with help and guidance we need to improve."
A statement from Bright Tribe said it had been restricted by the layout of the school and wanted to build a new one.
It said: "The trust will be the first to agree that the infrastructure and classroom environments have meant we have not been able to make the advancements in teaching and learning which we are achieving in our other schools.
"This is a source of great disappointment and frustration to us.
"The inherited condition of the school estate is an area we have been relentless in lobbying for support."