Cumbria Council roads dispute bill could top £20m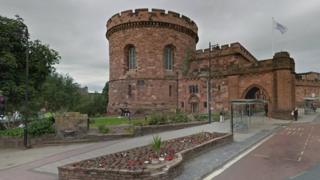 A council's bill for fighting a dispute with a former contractor could be more than £20m.
Cumbria County Council was ordered to pay £5.4m to road maintenance company Amey by the High Court in November.
The BBC has now learned the authority must pay £4.3m of Amey's £8.8m legal costs, on top of its own costs of just over £10m.
The council said its own costs were already paid, but the rest would have to come out of reserves.
The £4.3m bill does not include interest - at 8% above base rate - though the authority has said the figure is still subject to negotiation.
Amey said it welcomed the decision of the court and was "proud to have served the county delivering high-quality highways services".
The company was paid £272m for repairing roads for the council until 2012, after which time the council brought the service back in-house and relations broke down.
The council accused Amey of substandard work and overcharging and withheld money from its final bill.
Amey disputed the accusations and took the authority to court, claiming £30m.
Cumbria County Council is deciding whether to appeal.