Pategill fire death: Gas explosion ruled out as cause of fatal blaze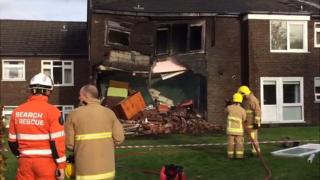 Police have ruled out a gas explosion as the cause of a fire which claimed the life of a 73-year-old man in sheltered accommodation in Cumbria.
The man, who has yet to be named, lived in a flat in Lonsdale Court, in Pategill, Penrith, which was gutted in the blaze on Saturday.
About 30 elderly and vulnerable people had to leave adjoining accommodation.
Cumbria Police said inquiries were continuing, but that a gas explosion had been excluded from possible causes.
Eden District Council said the complex remained unsafe and those forced to leave were being found alternative accommodation.
A police spokesman said rumours of an explosion being to blame for the fire were "unfounded".
"Work is ongoing to secure the building to allow residents to return to their flats, but this is expected to take a considerable amount of time," he said.
A council spokesman added: "We are continuing to work with adult social care to make sure residents get the most appropriate accommodation.
"We have no idea at this stage what caused the fire, but Cumbria Police and the fire service are conducting a joint investigation and a report will be produced for the coroner."
Lonsdale Court is run by Housing 21 and provides 30 self-contained flats for people who cannot manage on their own. Each has its own bathing, living area, bedroom and kitchen, with staff on site to help with personal care, meals and medication.
A spokesman for Housing 21 said: "Our residents and staff have been overwhelmed by the number of people and local businesses who came forward to provide help for those who have had to leave their homes.
"Our priority is the well-being of our residents, and we continue to work with the police and fire service on the investigation."