Oxenholme to Windermere railway upgrade delayed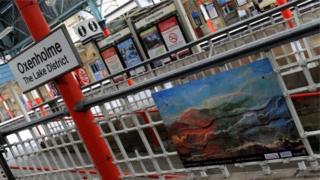 A £16m project to electrify the railway route between Oxenholme and Windermere could be pushed back "until 2024".
The plans, announced in 2014 by the Department for Transport, stated the line would be upgraded before 2017.
Liberal Democrat leader and South Lakes MP Tim Farron has now said ministers refused to commit to having the project completed by 2024.
The Department for Transport said details about how the scheme would be delivered would be confirmed in March.
'Not yet outlined'
It is hoped electrifying the route would enable faster and greener travel between Kendal, Burneside and Staveley, as well as to Manchester.
Mr Farron said: "These delays will be massively frustrating for local residents and the tourism industry which is relying on electrification to bring new trains and better connections to the Lakes Line.
"When I sat down with Network Rail they were absolutely convinced they could do it by 2017, but this is a government decision, they have chosen to push the decision back."
Robert Talbot, who chairs the Lakes Line Rail User Group, said: "The way that we can achieve growth is to get visitors to travel in a more sustainable manner... we desperately need the infrastructure to assist us in achieving this goal."
Network Rail said the project was "passing through Network Rail's investment process with the next key milestone due in March 2017".
It added: "Timescale on delivery of the branch line has not yet been outlined, however it is important to emphasise that this project has not been affected by any other programme of work."