Windermere water quality work begins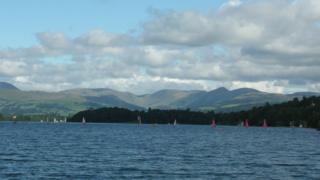 Work has begun on a £40m project to improve the water quality of Windermere in the Lake District.
The scheme will see a four-mile (6.5km) sewer laid and wastewater treatment works upgraded to reduce the amount of phosphorous in the lake.
Work is due to take place in phases with a completion date set for March 2020.
It is hoped the scheme will reduce the number of times the sewer network overflows into the lake during storms.
Phosphorous can cause algal blooms which can reduce the amount of oxygen in the water, inhibiting aquatic life, and potentially impacting on recreational uses of the lake.
The new sewer will follow the route of the A592, which will see rolling temporary closures from January 2017 until March to lay the first mile (1.5km).
A spokeswoman for United Utilities, which is carrying out the work, said: "Reducing the amount of phosphorous entering Windermere will be good news for aquatic life, recreation and tourism.
"Around half of the phosphorous in the lake is caused by water running off agricultural land or from private sewerage treatment systems. Sewer upgrades can contribute a lot, but are not the only answer.
"Unfortunately, the laying of the new sewer will result in some traffic disruption, which is why we are timing the work to avoid peak tourist seasons. We will do everything we possibly can to minimise inconvenience.
"Ultimately, we want this project to create a lasting legacy for the area, supporting wildlife, tourism and a thriving local economy."