Joshua Titcombe: Father welcomes final report into baby death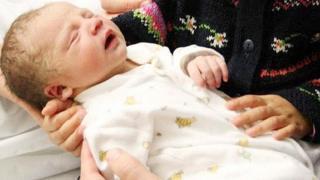 The father of a baby who died as the result of a "lethal mix of failures" at a Cumbrian hospital has accepted a final review as "lessons learned."
Joshua Titcombe died nine days after his birth at Furness General Hospital in Barrow in October 2008.
A series of reports highlighted major failings by midwifes and a reluctance to properly investigate similar deaths.
Health bosses have now published a final report into Joshua's death, which his father James has welcomed.
Joshua, from Dalton-in-Furness, died after suffering pneumococcal septicaemia and a lung haemorrhage.
An inquest in 2011 ruled he died as a result of natural causes, but that staff missed opportunities to save him.
A subsequent inquiry revealed Joshua was one of 11 babies and a mother to die after being treated at University Hospitals of Morecambe Bay NHS Trust over a nine-year period.
The trust accepted it had badly let down the families involved.
In the final report, the trust makes 22 findings and 18 recommendations, many of which it says are already implemented.
It details "many missed opportunities" in the care given to Joshua, confirming that if antibiotics had been administered quickly enough he would then "almost certainly have survived".
But it says the key issue is "about responding to incidents of this nature in an open, transparent way that allows findings and lessons learnt to be shared more widely".
It concludes: "We are determined that the learning following Joshua's death will continue to play an important part in the ongoing development of maternity services and patient safety right across the trust."
Responding to the report Mr Titcombe thanked recently appointed trust Chief Executive Jackie Daniel for her work, adding: "We are confident the trust has really learned from Joshua's death now."