Eden District Council pays back £1m to Sainsbury's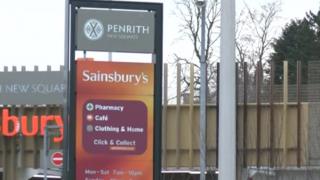 A council has paid back more than £1m to Sainsbury's after it overcharged the supermarket chain for business rates.
Eden District Council, in Cumbria, has repaid the money following the error relating to units at Penrith's New Squares shopping centre.
The figure was revealed following a BBC Freedom of Information request.
The overpayment has, in part, been blamed on incorrect documents supplied by the local authority.
Eden Council owns the New Squares land with Sainsbury's the leaseholder responsible for letting the shops to other businesses.
The company challenged the rateable value of the properties, which determines how much is paid, and the date from which rates were due.
It is understood £448,827 was owed when the rateable value was revised with a further £625,092 being the result of an amended date of entry on to the ratings list.
'Refund rates'
A spokesman for the supermarket said: "In 2012 the local council served completion notices, which are required on new buildings so they can begin paying business rates.
"Unfortunately, the notices were incorrect including the completion dates. We raised this with the council and following discussions had no other option but to appeal.
"The tribunal agreed with Sainsbury's and in 2016 the council decided to issue new completion notices, which we've agreed with.
"As a result, this meant the council had to refund rates we had been paying since 2012."
Eden District Council said: "Business rates are primarily a matter for central government. Eden District Council is a collection agent on behalf of the government.
"Every business property that is subject to business rates is assigned a rateable value by the Valuation Office.
"If a business believes their rateable value is incorrect, they can make an appeal to the Valuation Office to change it."