National Grid power lines to go under the Lake District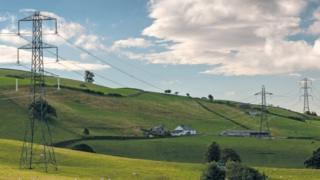 Electricity cables to connect a new nuclear power plant to the grid are to go underground, rather than on overhead pylons, to protect the landscape.
National Grid has announced revised plans for 23.4km (14.5 miles) of line through the western section of the Lake District National Park.
Original proposals for pylons, had sparked concern from conservationists.
There will now be a public consultation on the proposed route from Moorside, to Heysham, Lancashire.
Pylons removed
National Grid said it had taken "extensive measures" to reduce the impact of the project on the national park and "other treasured landscapes".
It could mean existing lines on the western section of the park removed completely, leaving it free of pylons for the first time in 50 years.
Project manager, Robert Powell said: "Balancing the impact of the project on the landscape against its cost has involved making some difficult choices, as the cost of building a connection is ultimately passed through to energy bill payers.
"We believe the proposal we are going to consult on over the coming months strikes the best balance."
Friends of the Lake District said it was "delighted" that the plans had been revised.
The group's chief executive Douglas Chalmers said: "National Grid should be congratulated for listening to public opinion and respecting the designation of national park status which affords the Lake District landscape the highest level of protection in the UK."