Pedestrian hit by car in Workington dies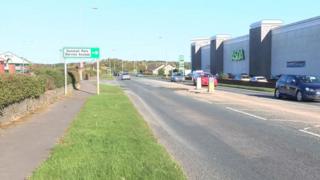 One woman has died and another is in a critical condition after they were hit by a car in Cumbria.
The pedestrians were struck on Saturday evening on the A596 near Dunmail Park in Workington, police said.
A woman, 79, was taken to Carlisle's Cumberland Infirmary where she later died. A 35-year-old woman was airlifted to hospital in Newcastle.
A man was arrested on suspicion of causing death by dangerous driving and later bailed.
The 46-year-old driver of the car, from the Workington area, was uninjured in the crash.
Police are appealing for witnesses.